Bnai Israel Hebrew High School
Join Rabbi Bender for Bnai Israel Hebrew HighSchool. We'll meet on Wednesdays from 4 pm to 5:30 pm.
Remaining Dates for 2021:
Wednesday, November 3, 2021, 4 pm
Wednesday, November 10, 2021, 4 pm
Wednesday, November 17, 2021, 4 pm
Wednesday, December 1, 2021, 4 pm
Wednesday, December 8, 2021, 4 pm
Bnai Israel Hebrew School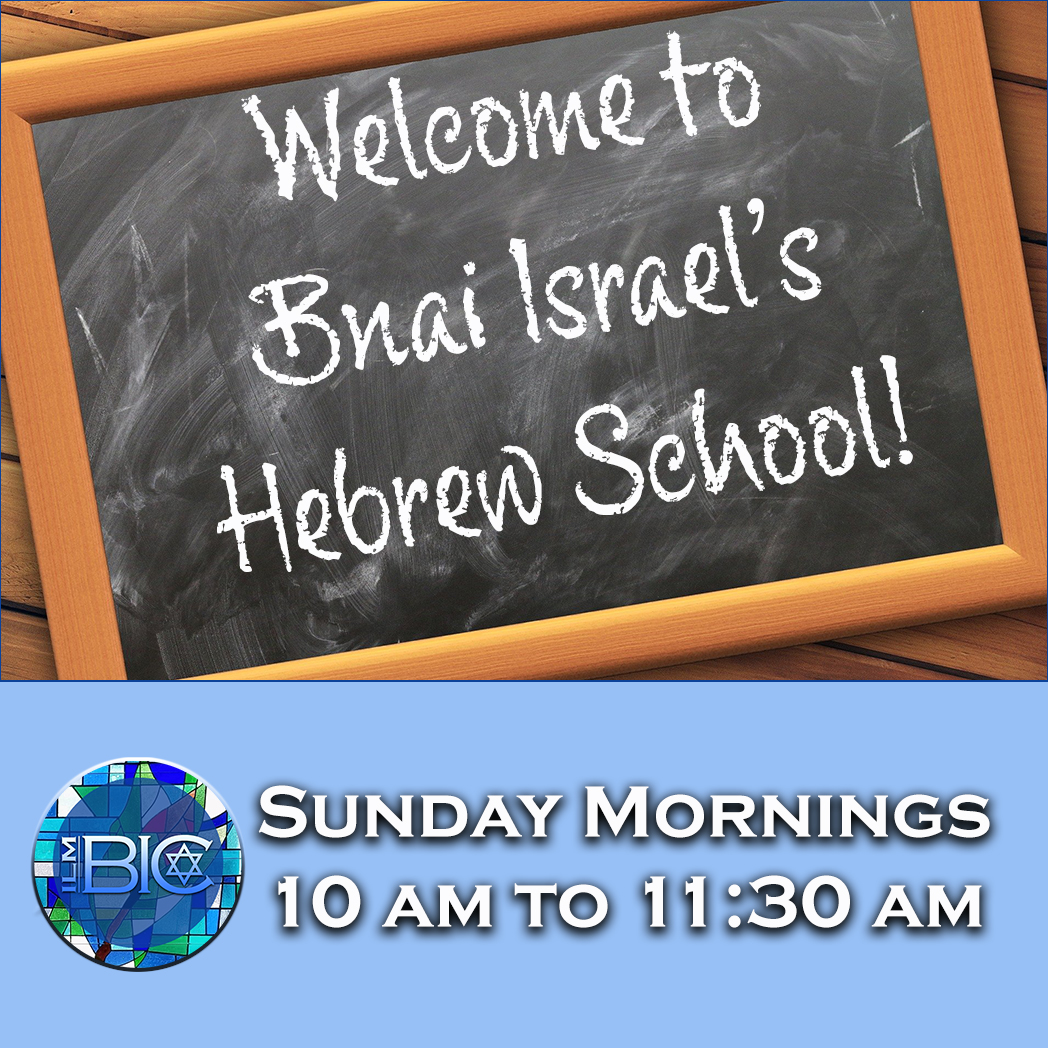 Join Rabbi Bender for Bnai Israel Hebrew School. We'll meet on Sunday mornings from 10 am to 11:30 am, on Fridays before Kabbat Shabbat at 6:30 pm, and Saturdays during Torah Service from 10 am to 10:30 am.
Remaining Dates for 2021:
Sunday, November 7, 2021, 10 am
Sunday, November 14, 2021, 10 am
Sunday, November 21, 2021, 10 am
Friday, December 3, 2021 6:30 pm
Sunday, December 5, 2021, 10 am for a Special Family Day
Sunday, December 12, 10 am
REGISTER FOR HEBREW SCHOOL
Hebrew School begins
Sunday, October 10, 2021 • 4 Cheshvan 5782
Hello Parents/Grandparents,
I am so excited to announce that Hebrew School is about to kick into gear. Our first day of class will be October 10th.
As you are well aware, COVID might cause things to change, but the plan for now is to meet in person, masked, in the building. If this concerns any of you, please let me know, and we will discuss options privately. The calendar (see below) is also a work in progress with the hopes that as things get better we might be able to go on a trip as a school later in the Spring. I am in touch with the Institute of Southern Jewish Life Heritage Tour Coordinator regarding any trip we might have. Information will be shared with you as things progress.
Please register for school by September 12th so that appropriate class pods can be assigned. For students 7th grade and up, please let me know if you would prefer to meet Sunday at 11:30 am or during the week for your Hebrew High School class pod.
This year, registration for school will be $300 for the 1st child, $150 for the 2nd child and $100 for any additional students. However, no student will be turned away from learning if there is a need, thanks to the new Sisterhood Janice Kingoff Jewish Education Fund. Please be in touch with me directly if you need a scholarship. Hebrew School tuition helps pay for our teaching staff, materials, special events, and Bnai Mitzvah tutoring tools. If you are in the position to donate more on top of tuition, it would only enhance the program. We are very grateful for your donations.
Please see the printable colorful calendar below. Family events are open to the entire Jewish community regardless of synagogue affiliation. Sundays are our "normal" Hebrew School Days, meeting from 10-11:30 am. Occasionally, we will meet on Shabbat, either Friday night before services at 6:30 pm, or on Saturday during services from 10-10:30 am. In addition, I will be offering all students individual tutoring sessions in Hebrew for 30 minutes during the week whenever it fits into their schedule on ZOOM or in person.
I hope you will attend the upcoming family events before the official start of school:
September 19, Sukkah Decorating ~ 10-11:30 am
Come lend your art skills or your muscles as we create and hang our original art in the Sukkah. Crafts will range from tummy time paintings for our babies to recycled art for our teens and adults. Please bring the whole family!
September 26, Snacks in the Sukkah ~ 10-11:30 am
Now that you have had the chance to decorate the Sukkah, stop by to eat some snacks and shake the lulav and Etrog. Allergy friendly snacks will be available.
Oct 3, Simchat Torah Extrava-stations ~ 10-11:30 am
Join our Institute for Southern Jewish Life Program Associate, Julian Cohen, as we explore the holiday of Simchat Torah through various fun and interactive stations.
When Registering:
Please send me an email with intent to register using attached form.

Download Form here

Either send in a check or submit payment through ShulCloud, donations under "Education Fund".
Please be in touch with any questions. I am very much looking forward to seeing us, God willing, in person very shortly!
B'Shalom,
Rabbi Chaya Bender
Click the Calendar or This Link for a Printable Calendar!
End of the School Year Celebration May 2021
.
What a great time the kids - and the adults(!) had on May 16th. Another school year finished!!

Which one was the most fun?? Making ice cream? Cooking blintzes? Papercrafting flowers? Putting on a play?

It was the adults who had the most fun! Watching their kids and grandkids enjoying these projects and being actors in a play about the giving of the Torah. The grownups also got to spend time with Amy Ripps, our lead teacher, discussing Shavuot and the Book of Ruth.

Thank you to Amy for such a fantastic program and to teachers Sasha Freedland and Grace Gleason for joining us to mark the beginning of summer!

See you next year!!
BNAI ISRAEL HEBREW SCHOOL
ISJL: OUR PARTNER IN JEWISH EDUCATION
At Bnai Israel Congregation, we're proud to partner with the Goldring/Woldenberg Institute of Southern Jewish Life (ISJL) to ensure our children an excellent Jewish education.
The ISJL is a regional, trans-denominational Jewish organization serving a thirteen-state southern territory. Our school is one of dozens of religious schools across this region sharing in the ISJL's Curriculum, coming together each summer for the ISJL Education Conference, and getting visits from our ISJL Education Fellow.
YASHER KOACH MARGO WAGNER!!
Thank you to Margo Wagner
Our ISJL Education Fellow for 2020-21
Margo will be attending the Cantorial program at UAHC.
We wish her the best of luck!
Learn more about Margo
Mon, June 27 2022 28 Sivan 5782